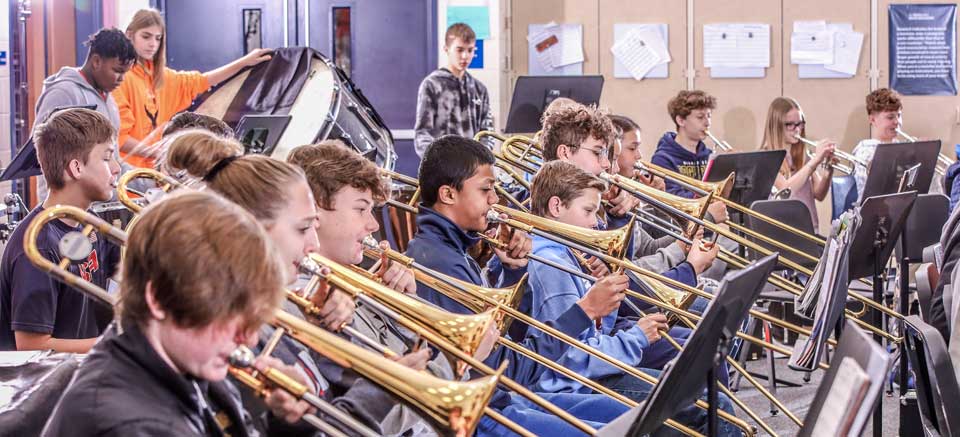 Everything you need to make music in school.
We have worked very closely with your school music teacher to develop our Debut Rental Program to provide the exact instrument, music book, instrument care package, and repair coverage to give your student the best chance to succeed.
Here's how it works:
Rent Your Instrument: Until you own it, or until you return it, it is up to you.
Return Any Time: No long term commitment.
Easy Exchange: Transfer your payments to another instrument if your child changes instruments.
Repair & Replacement Coverage: We'll take care of routine repairs, accidental damage, and loss due to fire or theft.
Free Loaners: We'll provide a loaner when your instrument comes in for repair so your student doesn't miss valuable classroom time.
Free Delivery: To and from your school with our regular delivery.
Purchase Outright and Save: If you choose, you may pay off your instrument balance in full and save 40%!
Because of certain laws and restrictions that vary from state to state, we are only able to rent to residents of Indiana.
Today's initial purchase must be paid with a major credit card.
Follow the steps to complete our easy online rental and we'll deliver your student's instrument, music book, and instrument care package. Let the music begin!
Repair & replacement coverage included!
All musical instruments need regular repairs and adjustments to play properly! When your instrument needs repair, you can take comfort in knowing that you are covered by our convenient Repair & Replacement Coverage.
Includes:
Routine repairs necessary to keep your instrument playing properly
Replacement Due to Fire and Burglary
Repair of accidental damage
Free loaner instrument provided when your instrument is in for service
Free replacement of mouthpieces and broken strings (violin, viola, cello, bass)
Does Not Include:
Accessories such as reeds, lubricants, rosin, sticks, mallets, etc.
Mouthpiece caps or ligatures
Cosmetic or Intentional Damage
Choose your instrument.
Your instrument is available on our easy, affordable Debut Rental Program with the following benefits:
Rent-To-Own Monthly - 100% of your rental payment automatically applies towards ownership
Return Any Time – No long term contract commitment
Exchange – Easily exchange to another instrument
Early Purchase Discount – Payoff your remaining balance in full anytime and save 40%!
For assistance in Sizing your instrument
(Strings Only) Click here
Instrument:
You must select a school first.
Setup delivery.
Please check over the following delivery information. This is where and when the director asked us to have your items delivered. If it is acceptable, please select continue. If you need to change the method of delivery, please make that selection below.
Order Review
---
Lessee Name and Address


,

IN




School:
Director:
Student:
Instrument:
Condition:
Your Credit Card will be charged for the following:
Item Description
Sell Price
Qty
Extended
Shipping Charges - UPS
$0.00
Sub Total
Sales Tax Total
Total to be charged to card ending in
Delivery Information:
Method:
Address:
Debut Rental Package
---
Includes Free Repair and Replacement, Free Deliveries and Pick-up, Exchange, Return, and Early Purchase Discount Options.
With the purchase of the Debut Starter Pack you receive the use of the instrument from to (Initial Period). Monthly rental payments will begin on the Agreement Start Date .
You elected to make monthly recurring payments from your supplied account ending in . Your first payment will be due on the Agreement Start Date . Your remaining payments will be due on day of every month.
Ownership Acquisition
---
Monthly Payment: + $ (tax) =
Debut Rental Package Purchase Price: $ + $ (tax) = $
Rent-to-Own: If you renew this agreement for consecutive months at per month (including tax) beginning on the Agreement Start Date, you will acquire ownership of the instrument and pay a total of $ (including tax).
Cash Price: (instrument only, no services included) if paid in full before the Agreement Start Date (% discount) $ + $ (tax) = $
* Reminder: You may purchase your instrument at anytime during the rental agreement and receive a % discount off of your remaining balance.
Terms of Agreement
---
Signature
---
By signing below: You agree to the terms of the agreement and acknowledge that you have read and fully understand the terms of this agreement; Acknowledge that you have received or will print a completed copy of this agreement; And authorize us to investigate your credit and employment history.
(You will be provided a print friendly version of your contract upon entering your social security number and clicking the Submit Order button)
Entering Your Social Security Number below will serve as your unique and legal signature.